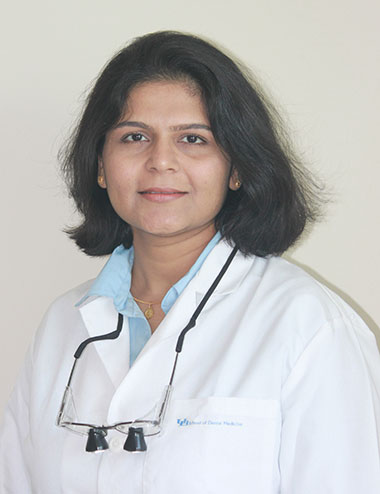 Kunjal Patel, DDS
Dr. Patel obtained her dental degree from the State University of New York at Buffalo, where she graduated MAGNA CUM LAUDE. This happened to be her second earned degree. Prior to attending SUNY at Buffalo, Dr. Patel graduated from Government Dental College & Hospital in Ahmedabad, India. Dr. Patel served underserved populations by working for a non-profit organization in Pennsylvania for 2 years. She moved to Virginia with her husband and son in 2011 and made Virginia her home. Since then, she has worked as an associate before starting her own practice.
Dr. Patel is a strong believer of preventive care and proper oral hygiene as the key for good oral health. "Healthy body & mind starts from a healthy mouth." She is passionate about her work on a professional and personal level. Her philosophy of service to the patient is always putting the patient's needs first by creating an accommodating and relaxing environment by minimizing dental fear, educating patients, and providing a patient-centered positive experience to produce excellent clinical outcomes and satisfaction. She treats her patients the same way that she would expect for herself. She is a big believer in providing dental care for everyone no matter what age or socioeconomic status and utilizing the latest technology in dentistry. Committed to lifelong learning in the dental field, Dr. Patel participates in numerous hours of continuing education programs each year.
Dr. Patel's awards during dental school years
Graduated Magna Cum Laude, School of Dental Medicine, University at Buffalo, New York
Omicron Kappa Upsilon Award (Honor Dental Society) Lambda Lambda Chapter, for outstanding scholastic performance
The "Victor A. Fumia Award", for demonstrated Excellence in Fixed Prosthodontics
Dean's List in all semesters, School of Dental Medicine, University at Buffalo, New York.